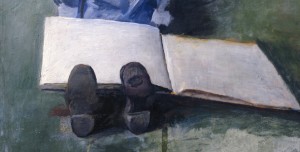 Little Ebbe reading, 1920 by Christian Krohg - "It´s all about finding your perfect image"


Scroll down for information in english.
Brukeveiledning for lagring, søk og bestiling:
Start med å registrere en konto i lightbox. Ved å gjøre dette har du muligheten til å lagre dine favoritter underveis og enkelt finne tilbake til dine illustrasjoner. Du kan også opprette ulike kataloger i lightbox slik at du effektivt kan sortere bildene under ulike prosjekter. Gjennom din lightbox kan du sende bestilling på flere bilder i samme forespørsel.
Bestilling av enkeltbilder og reproduksjoner på print:
På høyre side under hvert enkelt bilde finner du to knapper for valg av bestilling.
Du kan bestille filer for publisering i trykk eller digital utgivelse ved å klikke på "licens" knappen.
Du kan bestille reproduksjoner trykket på ulike typer papir for privat bruk ved å klikke på "print" knappen.
Når du gjør en bestilling for "licens" vil vi kontakte deg for å diskutere ditt prosjekt og finne den rette pris for ditt bruk. Du vil deretter motta en ordrebekreftelse for signering som du returnere til oss via e-mail. Bildet vil i løpet av 1-2 dager blir overført deg gjennom wetransfer.
Når du gjør en bestilling for "print" vil du ikke bli bedt om å betale online. Når vi mottar din bestilling vil vi ta kontakte deg via e-mail for deretter å sende deg en faktura basert på bildestørrelse, materiale og eventuelle opphavsrettshavere.
Hvordan bruke søkeboks:
For å finne motivet du ønsker skriv inn ditt valgte søkeord i søkeboksen. Du kan bla gjennom søkeord ut fra våre lister for engelske og norske søkeord, kunstnere eller du kan bruke egne beskrivelser relatert til bilde du søker. Når du bruker søkeord kan først bruke formen entall. For eksempel" hest" i stedet for" hester". Du kan også søke bildetitler, for eksempel "Blomstrende epletre". Du kan også legge inn flere søkeord i søkeboks. For eksempel; er du på utkik etter en kvinne i interiør kan du skrive ; kvinne (mellomrom) interiør. Og finner du ikke det du leter etter kan du kontakte oss og vi vil hjelpe deg.
How to order, store and search for images.
Collect and order images in you own lightbox:
Start with register an account and you can create your own lightboxes. By doing this you have the opportunity to create your own archive that you can reach from the different computers you may use. Here you can store your favourite selected images in your own private prosject lightbox as you search your way through our images. On the right side under each image article you will find a button "add to lightbox". Through your lightbox you can make an order for several images in the same request.
Order single images and prints:
On the right side under each image article you will find two buttons for ordering the image you want.
You can order images for publishing by clicking the "license" button.
You can order fine art print for home decoration by clicking the "print" button.
When you make your order for "license" you will not be asked to pay in advance. We will contact you to discsuss your needs for the images and find the right price agreement for your use. You will then receive an order form for you to sign and return to us. The image will shortly after be transferred to you through wetransfer
When you make your order for "print" you will not be asked to pay online. When we receive you order we will send you an invoice based on the image, chosen material and size for your fine art print. You will receive the print by post when the payment is registreted.
How to use the searchbar:
Enter your selected keyword into the search box to find images. You can either browse our keyword list in english or norwegian writing or you can use your own subject description related to the image you are searching for. When you use keywords, try first using the singular form. For example, enter "horse" instead of "horses". You can also search for image titles, for example " flowering apple tree" . You can also add several keywords into the searchbar. For expample, you are looking for a woman in interior you can write; woman(space) interior. And if you still do not find what you are looking for please contact us and we will help you.