© KOPIRETT - KUNSTVERK / COPYRIGHT - ART WORKS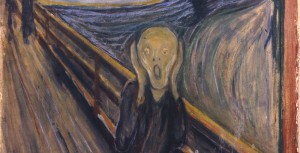 The scream, 1893 by Edvard Munch
The art works in this database are protected by Norwegian and international copyright legislation. Copyright shall subsist during the lifetime of the artist and for 70 years after the expiry of the year in which the artist died.
Protected art works may not be reproduced or made public in any way - analogue or digital - without permission from the right holder/BONO. Single copies for private use (family and friends) may be reproduced if outside assistance for the reproduction is not used.
If you wish to reproduce/publish protected art works, please contact BONO (Norwegian Visual Artists Copyright Society) for a license.
Kunstverkene på dette nettstedet er beskyttet av Lov om opphavsrett til åndsverk av 1961. Vernetiden gjelder i kunstners levetid og 70 år etter utgangen av hans dødsår.
Utover privat bruk, er gjengivelse/reproduksjon av vernede verk i analog eller digital form ikke tillatt uten lisens fra rettighetshaver/BONO (Billedkunst Opphavsrett i Norge). Med privat bruk menes fremstilling av eksemplarer til bruk i familie- og vennekretsen, såfremt fremstillingen ikke skjer ved fremmed hjelp.
Dersom du ønsker å reprodusere/publisere vernede kunstverk skal du kontakte BONO for å få lisens.
BONO (Billedkunst Opphavsrett i Norge / Norwegian Visual Artists Copyright Society)
tlf: + 47 23 10 03 50
mail: bono@bono.no