"It`s all about finding your perfect image"
Browse through thousands of artwork images and transform your favorite image into lifestyle art prints for your home or office.
We do cooperate with fineartamerica so if you live abroad Norway you can easily order your art prints reproduction by clicking on the link bellow. Each image can be purchased as a framed print.
And if you cant find the image you are looking for through fineartamerica please contact us and we will publish the image on fineartamerica from our website.
When you order directly from us all our art prints are delivered without a frame.
Order, payment and shipping
O. Væring wishes to give you the best selection of reproduction print of Norwegian art. Discover your personal favorite among thousands of amazing art images from our art collection and order the picture you want. Whether you are looking for reproductions of Edvard Munch and Theodor Kittelsen you will find it in our art collection. Prices will diverse according to size, print material and copyright holder. All prices includes shipping. Additional fee will appear when use of coypright artist.
When ordering a fine art print for private use you will be contacted by us. After agreement you will receive an invoice for prepayment and when the payment is transferred we will send you the art print by post. All our material is printed on high quality material and we deliver our art prints in a protected cardboard roll. We cooperate with a professional printing company with high quality standards.
O. Væring collection contains a wide quality selection of Norwegian art. We aim always for the highest quality, quick delivery and the best possible personal service to all our customers. With us you can print your unique art reproduction and you will not find mass-produced posters. Our material is based on photos of original art.
Feel free to contact us to discuss your requirements or find inspiration under categories.
"The art works in this database are protected by Norwegian and international copyright legislation. Copyright shall subsist during the lifetime of the artist and for 70 years after the expiry of the year in which the artist died. O. Værings Photographic copyright fee varies according to size, material and type of rights associated with each image.
The Protected art works may not be reproduced or made public in any way - analogue or digital - without permission from the right holder/BONO. Single copies for private use (home) can be reproduced in agreement with O. Væring"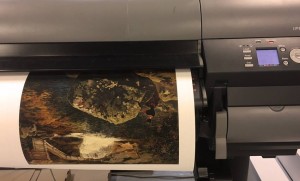 High quality print acrylic paper in action